Espresso pods Agust "Gentile" 25 bags
Rated: 5,00 out of 3 votes.
100% Arabica
€8.25
3 in stock
Blend consisting of only 100% Arabica plantation coffee, selected electronically bean by bean, certified CSC® Certified Specialty Coffee. It has very low levels of natural caffeine. A mild and delicate long-lasting taste with a fruity and floral intense aroma, with hints of chocolate and a pleasant acidity, thought for those people who are in search of aristocratic excellence. Special notes:
Product certified by CSC® Certified Specialty Coffee, which guarantees and certifies the superior quality of plantation coffee elected.
It is characterized by an anti-counterfeiting label, numbered progressively, ensuring that the packaging on which it is affixed contains exclusively certified coffee.
To become part of this blend, our beans must overcome 2 selections. The first made in the countries of origin and the second made by us, through an optical-electronic grading machine, which rejects those beans lighter or darker which could affect the coffee taste in the cup. A guarantee for perseverance in having positive results.                                                                                                                                   Gold medal International Coffee Tasting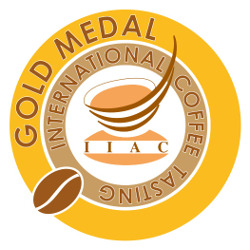 Aroma




                               Sweetness




Cream


                                                Caffeine

Fruit




5 Stars

4 Stars

3 Stars

2 Stars

1 Stars
Average Star Rating: 0.0 out of 5 (0 vote)
If you finish the payment today, your order will arrive within the estimated delivery time.